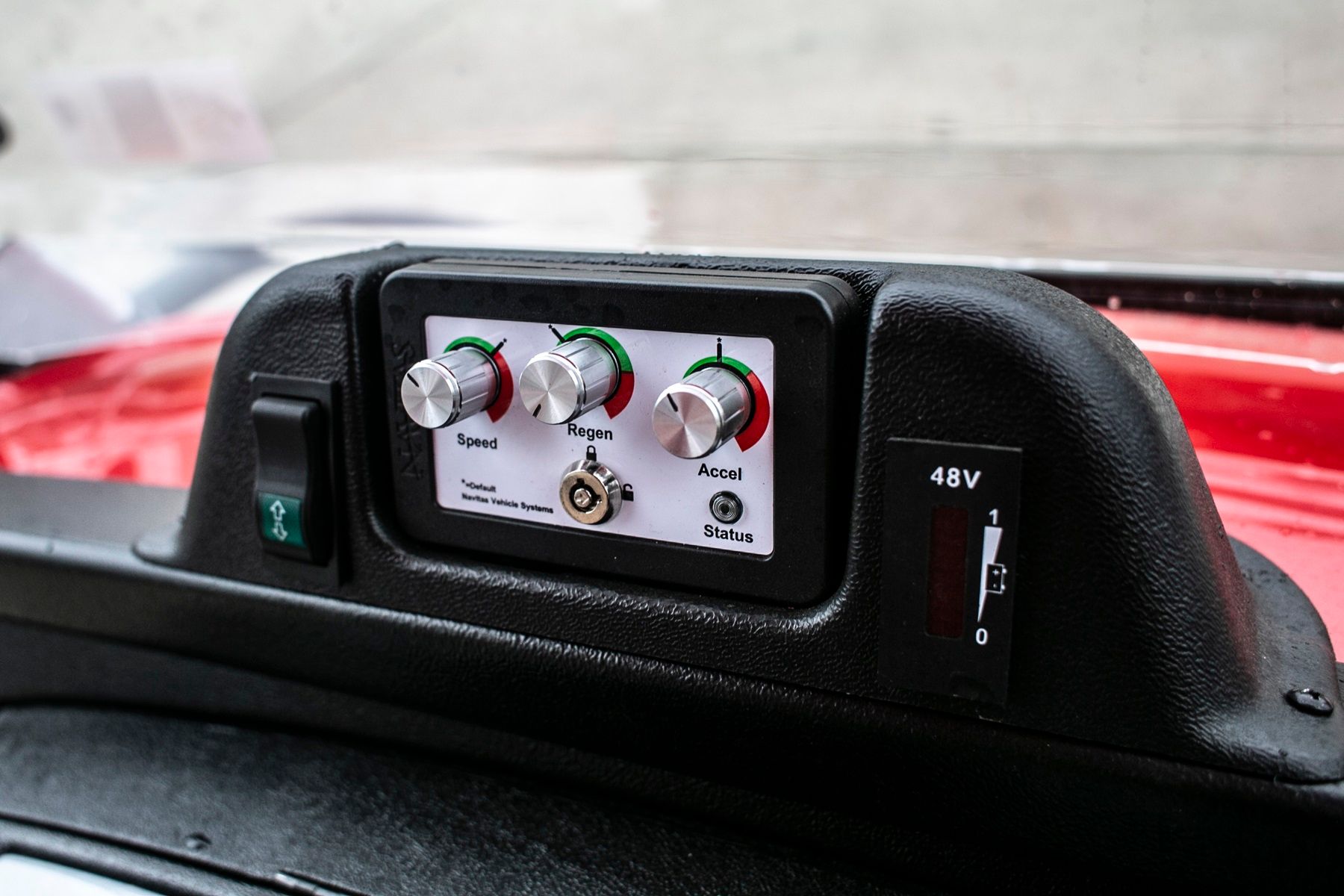 You have selected Club Car!
Step 2: When was your Club Car manufactured?
1981 – Today
Since 1981 Club Car® Golf Carts have positioned their serial numbers just under the glove box on the passengers side of the vehicle. The serial number of each vehicle is printed on a bar code decal. The two letters at the beginning of the serial number "A" indicate the vehicle model. The following four digits "B" indicate the model year and production week during which the vehicle was built. The six digits "C" following the hyphen represent the unique sequential number assigned to each vehicle built within a given model year. (See chart to right to find your model.)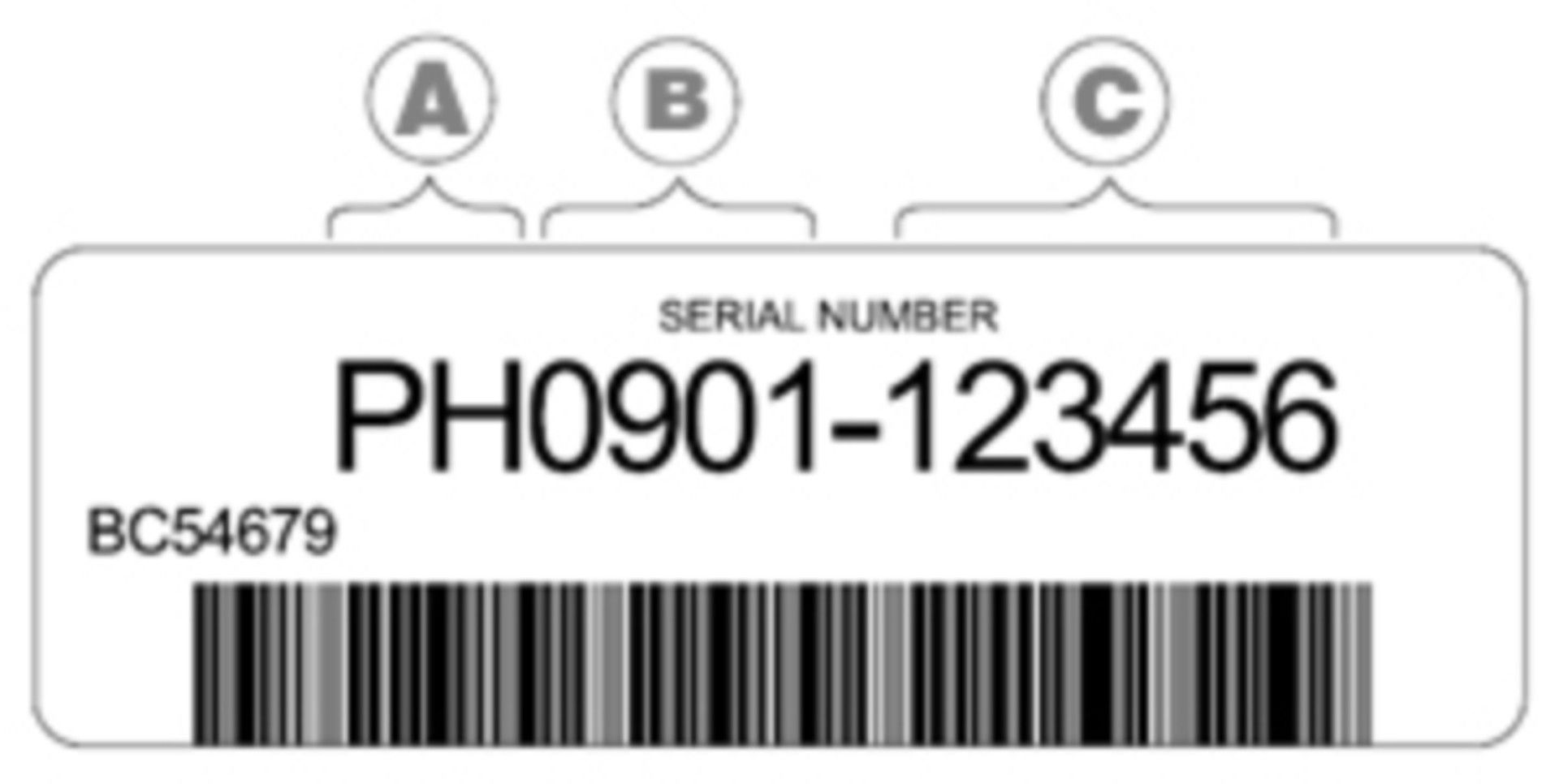 Prior to 1981
On Club Car® Golf Carts prior to 1981, you can find the serial number by raising the seat and locating the aluminium, I-beam frame section closest to the batteries on the driver's side of the car. If the serial number plate has been removed, you can confirm it is a 1975-1980 model if it has two brake pedals and one accelerator pedal.
Still not sure? Do you know if it is a DS or Precedent?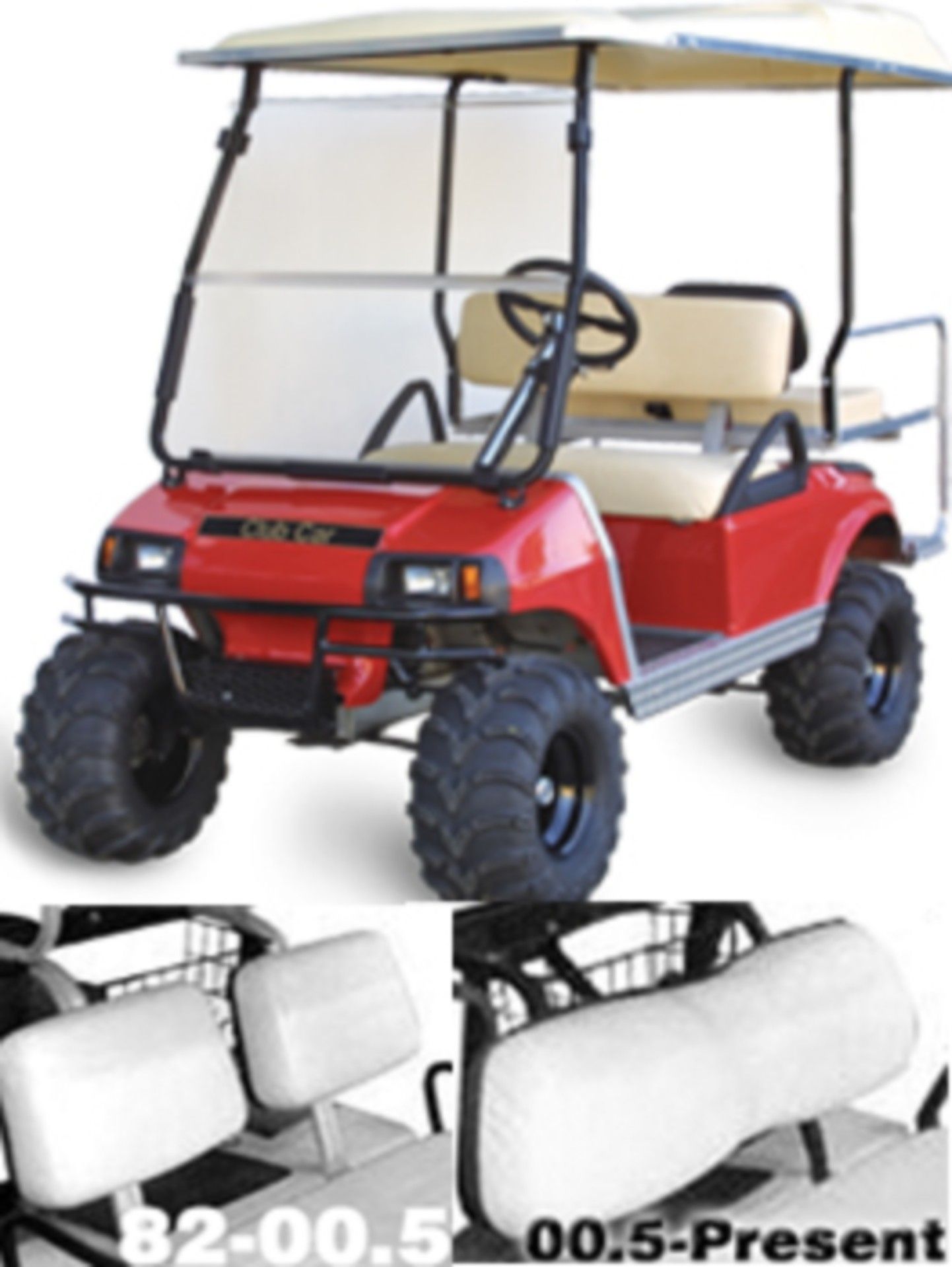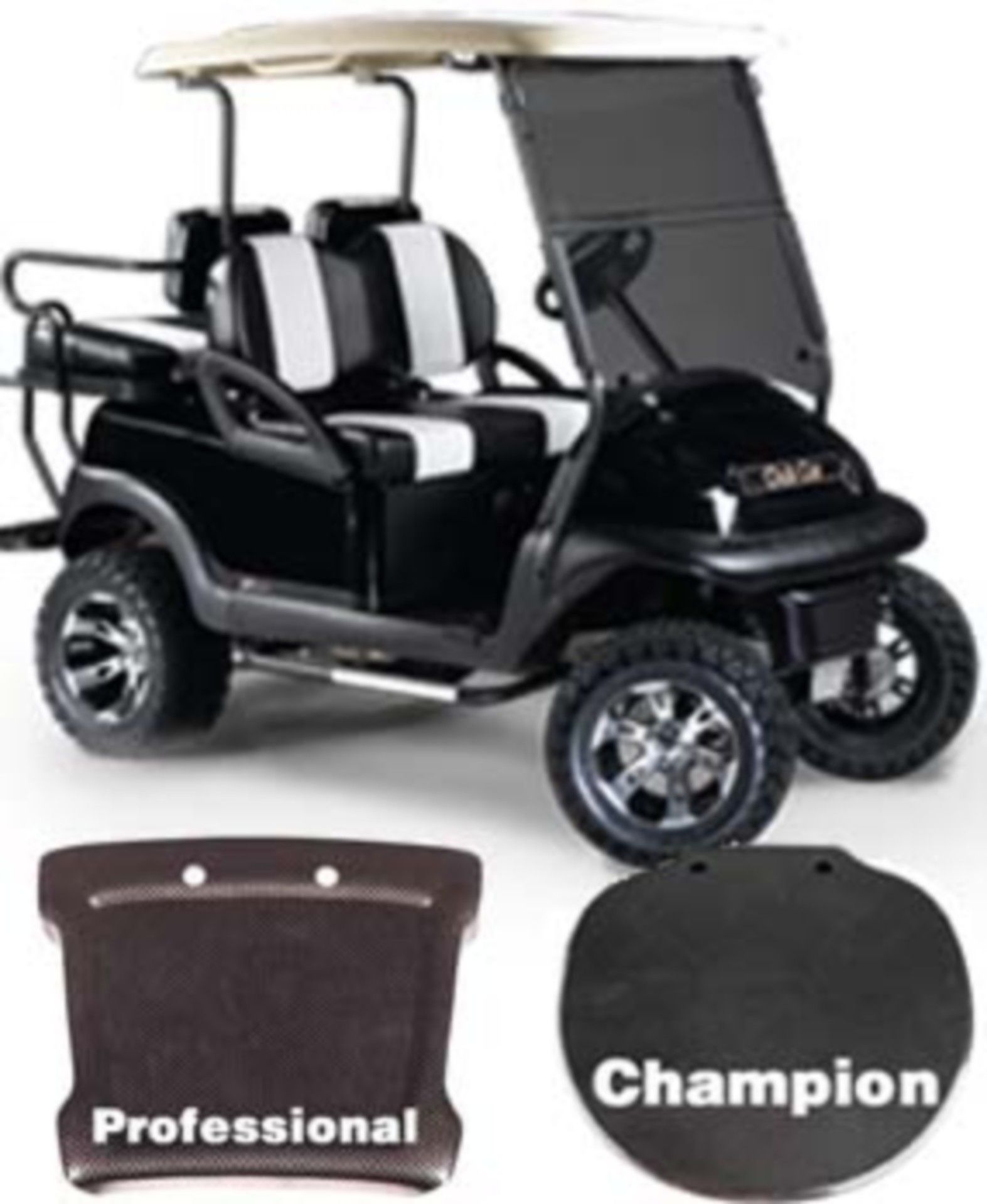 1982-Present DS Models have a distinct square front nose with a small black plastic bumper on the lower part of the front end.
2004-Present Precedent Models have a more rounded front nose with a wide black plastic bumper that wraps all the way around the cart.
The DS Models do have a split year which is easy to tell just by looking at the seat backs. If there are 2 individual seat backs that is a characteristic of the 82-00.5 models. If there is one continuous seat back that would be indicative to the 00.5-Present models.
The Precedent will have 2 sub models which you will hear referred to as the "Champion" or "Professional" models. Easiest way to tell is the steering wheel,if you cart has a square center it is the Professional if it is round you have a Champion.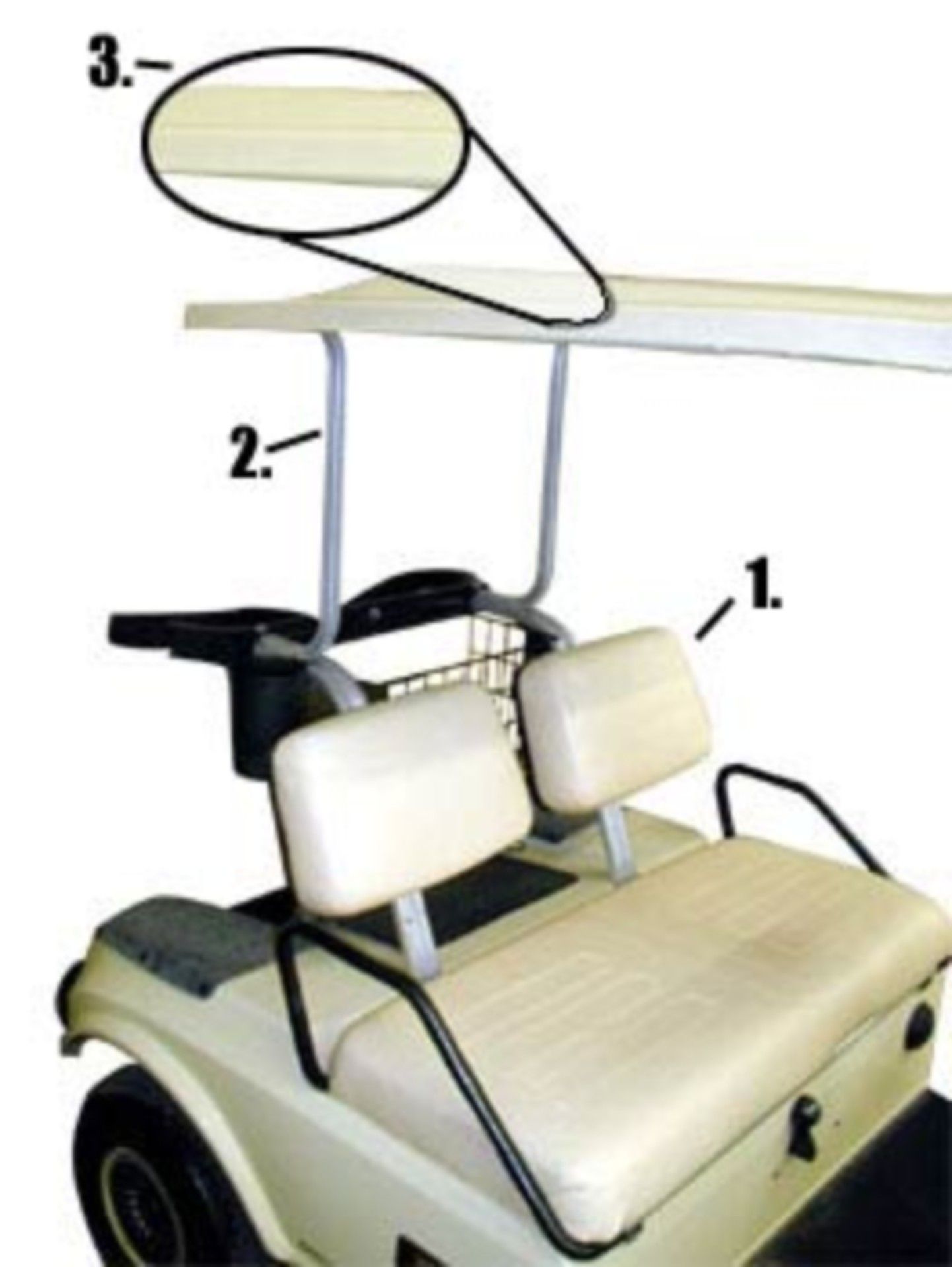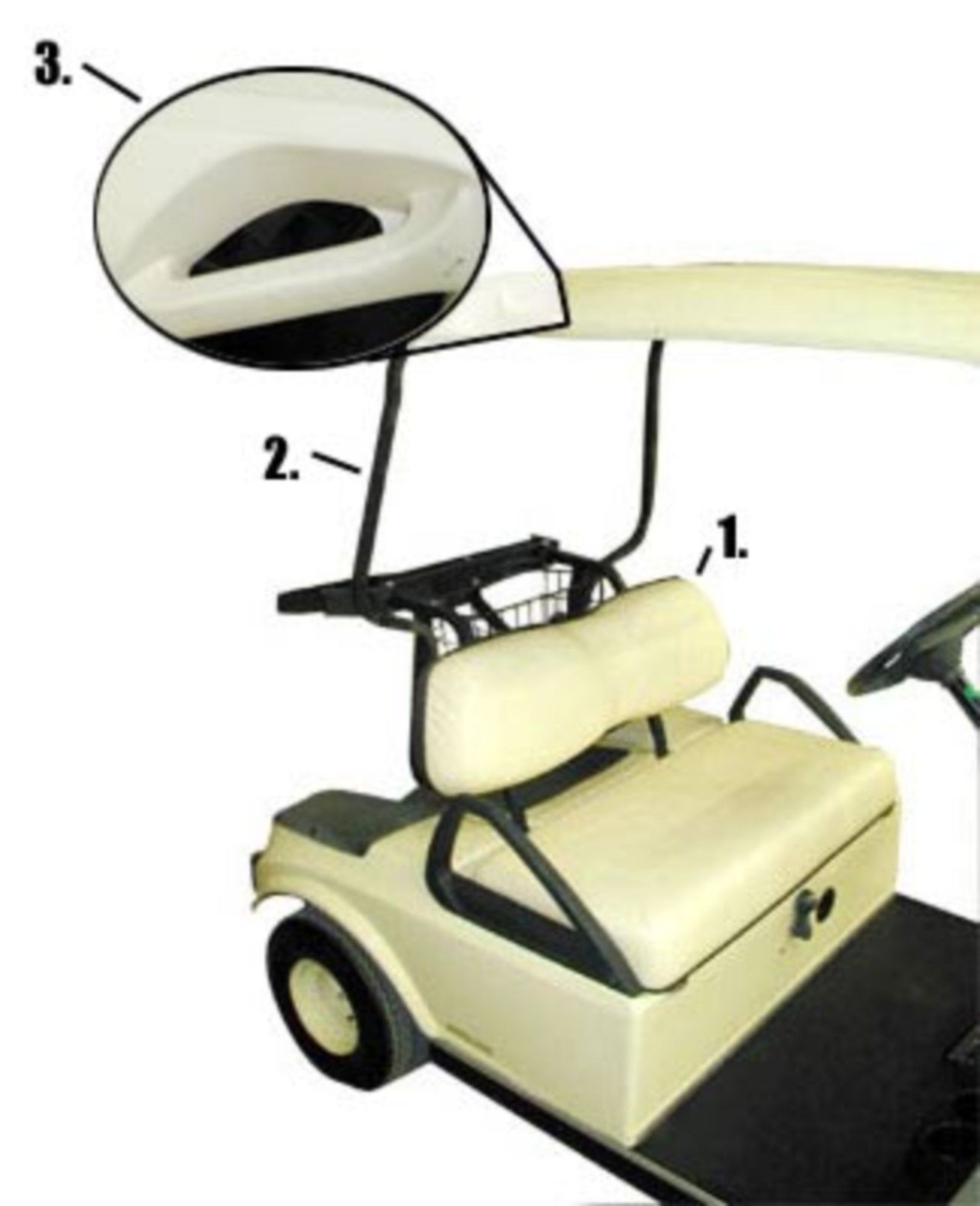 1982-2000.5 Club Car®s have two distinct seat backs while 2000.5-present models have a connected (one piece) seat back
1982-2000.5 Club Car®s have silver aluminium top supports while 2000.5-present models have black top supports
1982-2000.5 Club Car®s have a thin top while the 2000.5-present models have a thicker top with handles on each side of the back third of the top.
Note: Both models shown above were made in the year 2000. Therefore, if your Club Car® is a 2000 model, we must know which style (one seat back version or two seat back version) you have so we can provide you the correct accessory or part for your vehicle.
Step 3: What does the serial number mean?
| | |
| --- | --- |
| Serial Prefix | Vehicle Description |
| A | DS Electric (ALL prior to separation of models) |
| AA | DS Golf Electric (Electronic Controller) |
| AC | DS Golf Electric (Regen) |
| AD | Pioneer 1200 Gas |
| AE | Pioneer 900 Gas |
| AF | Cafe Express |
| AG | DS Golf Gas |
| AH | Pioneer 1200 SE Gas |
| AQ | 48V DS Golf Electric (Curtis IQ) |
| AZ | Indio Chassis IQ 4–Wheel Brake |
| B | CHASSIS ONLY ELMCO ELECTRIC (Electronic Controller) |
| BB | CHASSIS ONLY STREET ROD ELECTRIC (Electronic Controller) |
| BA | CHASSIS ONLY INDIO ELECTRIC (Electronic Controller) |
| BC | CHASSIS ONLY ULTRA ELECTRIC (Electronic Controller) |
| BD | BOBCAT 2200 – DEISEL |
| BE | BOBCAT 2200 – GAS |
| BK | BOBCAT 2100 (Gas) |
| BL | BOBCAT 2100S (gas) |
| C | Electric Industrial Vehicle, Two Places with Cargo Bed Carryall with Plastic Box |
| CE | Champion – Electric |
| CF | Champion – Gas |
| CG | Gas Industrial Vehicle, Two Places with Cargo Bed Carryall with Plastic Box |
| CP | CHASSIS, DS, IQ, CUSTOM CAR |
| CQ | CHASSIS, INDIO 48V IQ |
| CS | CHASSIS, CUSTOM SOLUTIONS STANDARD |
| D | Four Passenger Electric (also known as Fairway Villager) (Electronic Controller) |
| DB | BOBCAT AWD, DIESEL |
| DC | AWD, DIESEL, CA |
| DG | Four Passenger Gas (also known as Fairway Villager) #1013081 IPL |
| DH | AWD DIESEL OEM (H1) |
| DP | AWD, DIESEL, PIONEER |
| DS | 102474001 – 48V DS POWER DRIVE SERIES LC |
| E | Carryall 2 Electric (Electronic Controller) |
| EA | Carryall 2 Electric Industrial Truck (CE) |
| EG | Carryall 2 Gas |
| F | Carryall 1 Electric |
| FA | Carryall 1 Electric Industrial Truck (CE) |
| FD | Carryall 1 48 volt IQ |
| FG | Carryall 1 Gas |
| FQ | Villager 4. 48V, IQ System |
| G | Tourall Electric 36V |
| GB | BOBCAT AWD, GAS |
| GC | AWD, GAS, CA |
| GG | Tourall Gas |
| GP | AWD, GAS, PIONEER |
| H | Turf 1 Electric (Electronic Controller) |
| HA | DS Electric 36V Solid State (1994) |
| HB | AWD, Diesel, Bobcat, Homol |
| HC | AWD, Diesel, Carryall, Homol |
| HD | Turf 1 48 volt IQ |
| HE | H2, Electric |
| HF | H2 , XP, Electric |
| HG | Turf 1 Gas |
| HH | H2, Gas |
| HJ | H2, XP, Gas |
| HP | AWD GAS OEM (H1) |
| J | Transporter and Carryall 6 Electric (Electronic Controller) |
| JA | Carryall 6 Electric Industrial Truck (CE) |
| JG | Transporter and Carryall 6 Gas |
| JK | Turf 252, 48V Elec IQ Plus |
| JP | Transporter 6, 48 v Electric IQ Plus |
| JQ | Transporter 6, Gas Key Start |
| JR | Carryall 6 Electric IQ Plus |
| JS | Transporter 4, Elec 48 v IQ Plus |
| JT | Transporter 4 Gas Key Start |
| JU | Carryall 6, 11 HP Gasoline KS |
| JV | Turf 6, 11 HP Gas Pedal Start |
| K | Villager 6 Electric (Electronic Controller) |
| KG | Villager 6 Gas |
| L | All Limo Electric (prior to separation be models) |
| LA | Limo Electric (Electronic Controller) |
| LB | Limo Electric (Regen) |
| LC | AWD, Gas Longbed chassis |
| LD | AWD, Diesel Longbed chassis |
| LE | Limo II Electric (req by Joy Chaney, will replace LB) |
| LG | Limo Gas |
| LH | Limo II GAS (req by Joy Chaney, will replace LG) |
| LJ | Limo Electric (Asian limo project) |
| LK | Limo Gas (Asian limo project) |
| LL | Lego Land Chassis |
| LX | Gas Lynx 9.0hp |
| M | Villager 8 Electric (Electronic Controller) |
| MG | Villager 8 Gas |
| N | Transporter, Transsender, Carryall VI Electric (Electronic Controller) |
| NG | Transporter, Transsender, Carryall VI Gas |
| NQ | Pathway (NEV) |
| NR | Pathway (New Yorker) |
| PA | 1PASS (Produced by SoloRider, Model 32) |
| PD | Precedent I2L Excel |
| PE | Precedent Electric – 4Pass |
| PF | Precedent Gas – 4 Pass |
| PG | Carryall 2 Plus Gas |
| PH | Precedent I2 Excel |
| PL | Player – Electric (not available) |
| PM | Player – Gas (not available) |
| PQ | Precedent Professional – Electric |
| PR | Precedent Professional – Gas |
| PS | Precedent L2 – Electric |
| PU | Precedent I2 Signature Excel |
| PT | Precedent L2 – Gas |
| PY | Precedent Signature Gas Golf |
| PZ | Precedent Signature Elec Golf |
| QA | HD IQ – CA1 (not available) |
| QB | HD IQ – CA2 |
| QC | HD IQ – CA6 |
| QE | HD IQ Villager 8 Plus |
| QG | Carryall 272 Gas same as 1200/1200SE |
| QH | CA 472 Gas |
| QP | Pathway Golf (IQ – P) |
| QS | Villager 6 Plus (HDIQ) |
| QT | Turf 2 Plus (HDIQ) |
| R | Turf 2 Electric (Electronic Controller) Same as 'S' |
| RA | BCT, Gas AWD (Restyle) |
| RB | BCT, Diesel AWD (Restyle) |
| RC | CA, Gas AWD (Restyle) |
| RF | CA, Diesel AWD (Restyle) |
| RG | Turf 2 Gas |
| RH | HUV, Gas AWD (Restyle) |
| RJ | HUV, Diesel AWD (Restyle) |
| RK | HUV 4221 XP Diesel AWD |
| RL | HUV 4221XP Gas AWD |
| RR | CA, Homologated, AWD |
| RT | RSC 1550 Gas AWD |
| RX | XRT Gas AWD |
| RY | XRT, Diesel, AWD |
| S | Turf 2 Electric (Electronic Controller) |
| SC | 4×4, 4Pass, Gas, Carryall |
| SD | 4×4, 4Pass, Diesel, Carryall |
| SG | Turf 272 Gas |
| SH | XRT 1200 OEM (H1) |
| SX | XRT 1550 SE GAS AWD |
| T | Villager 4 Electric (Electronic Controller) |
| TB | AWD, Gas Bobcat 2300 |
| TC | AWD, Gas Carryall BT |
| TG | Villager 4 Gas |
| TH | AWD, Diesel BCT Homo 2300 |
| TL | AWD, Diesel Carryall BT |
| TR | AWD, Diesel XRT BT |
| TT | AWD, XRT 1550 INTELLITACH |
| TX | AWD, Gas XRT BT |
| UB | AWD, 4 pass Gas Bobcat |
| UC | AWD, 4 pass Gas Carryall |
| UL | AWD, 4 pass Diesel Carryall |
| UR | AWD, 4 pass Diesel, XRT |
| UT | AWD, 4 pass Diesel, Bobcat |
| UX | AWD, 4 pass Gas XRT |
| VG | Turf 6 Gas |
| WG | 19th Hole Gas |
| WH | Chasis, Deluxe Beverage Unit Gas 472 |
| XE | X2, Electric |
| XF | X2 Plus, Electric |
| XG | Turf 2 XRT Gas |
| XH | 800/810 Gas |
| XJ | X2 Plus Gas |
| XT | IR-CUV (Tractor Supply) |
| XU | RSC XRT 900 |
| YG | 19th Hole Deluxe Gas |
| ZG | Carryall 2 XRT Gas |
| | |
| --- | --- |
| Serial Prefix – Certified Factory Remanufactured Carts | Vehicle Description |
| 1A | REMAN MODEL 1 48V |
| 1B | REMAN MODEL 1 36V |
| 2A | GOLD STD GOLF CAR 48V |
| 2B | REMAN GOLF 03 REGEN |
| 2G | REMAN GOLF 03 GAS |
| 2P | PREC GOLD STD GOLF CAR |
| 2Q | REMAN GOLF 03 IQ |
| 3A | REMAN S710 |
| 3B | REMAN L320 |
| 3C | REMAN C410 |
| 3D | REMAN C440 |
| 3E | REMAN L310 |
| 3F | REMAN C810 |
| 3G | REMAN C840 |
| 3H | REMAN S910 |
| 3J | REMAN 57 CHEVY |
| 3K | REMAN L330 |
| 3L | REMAN DV2 |
| 3M | REMAN 65 MUSTANG REFURB |
| 3N | REMAN V2 |
| 3P | PREC GOLD STD 4-PASS |
| 3R | REMAN DV4 |
| 4A | REMAN LYNX 03 48V |
| 4B | REMAN LYNX 02 REG |
| 4G | REMAN LYNX 03 GAS |
| 4P | PREC GOLD STD HANDYMAN |
| 4Q | GOLD STD LYNX IQ |
| 5A | REMAN BOX 03 48V |
| 5B | REMAN BOX 03 REGEN |
| 5G | REMAN BOX 03 GAS |
| 5Q | GOLD STD HANDMAN IQ |
| 6A | REMAN 4 PASS 03 48V |
| 6B | REMAN 4 PASS 03 REGEN |
| 6G | REMAN 4 PASS 03 GAS |
| 6Q | GOLD STD 4 PASS IQ |
| RE | RESERVE Golf Car 48V 3yr old |
| RE | RESERVE Golf Car IQ 3yr old |
| RE | RESERVE Golf Car 48V 1yr old |
| RE | RESERVE Golf Car IQV 3yr old |
| 7A | SILVER STD 48V GOLF CAR |
| 7B | SILVER STD 48V HANDYMAN |
| 7C | SILVER STD 48V 4-PASS |
| 7D | SILVER STD 48V LYNX (IQ) |
| 7E | SILVER STD 36V GOLF CAR |
| 7F | SILVER STD GOLF (IQ) |
| 7G | SILVER STD HANDYMAN (IQ) |
| 7H | SILVER STD 4 PASS (IQ) |
| 7J | SILVER STD LYNX 4 PASS (IQ) |
| 7K | SILVER STD LYNX |
| 7L | SILVER STD LYNX PASS (48v) |
| 8A | GOLD STD LYNX 4 PASS (48v) |
| 8Q | GOLD STD LYNX 4 PASS (IQ) |