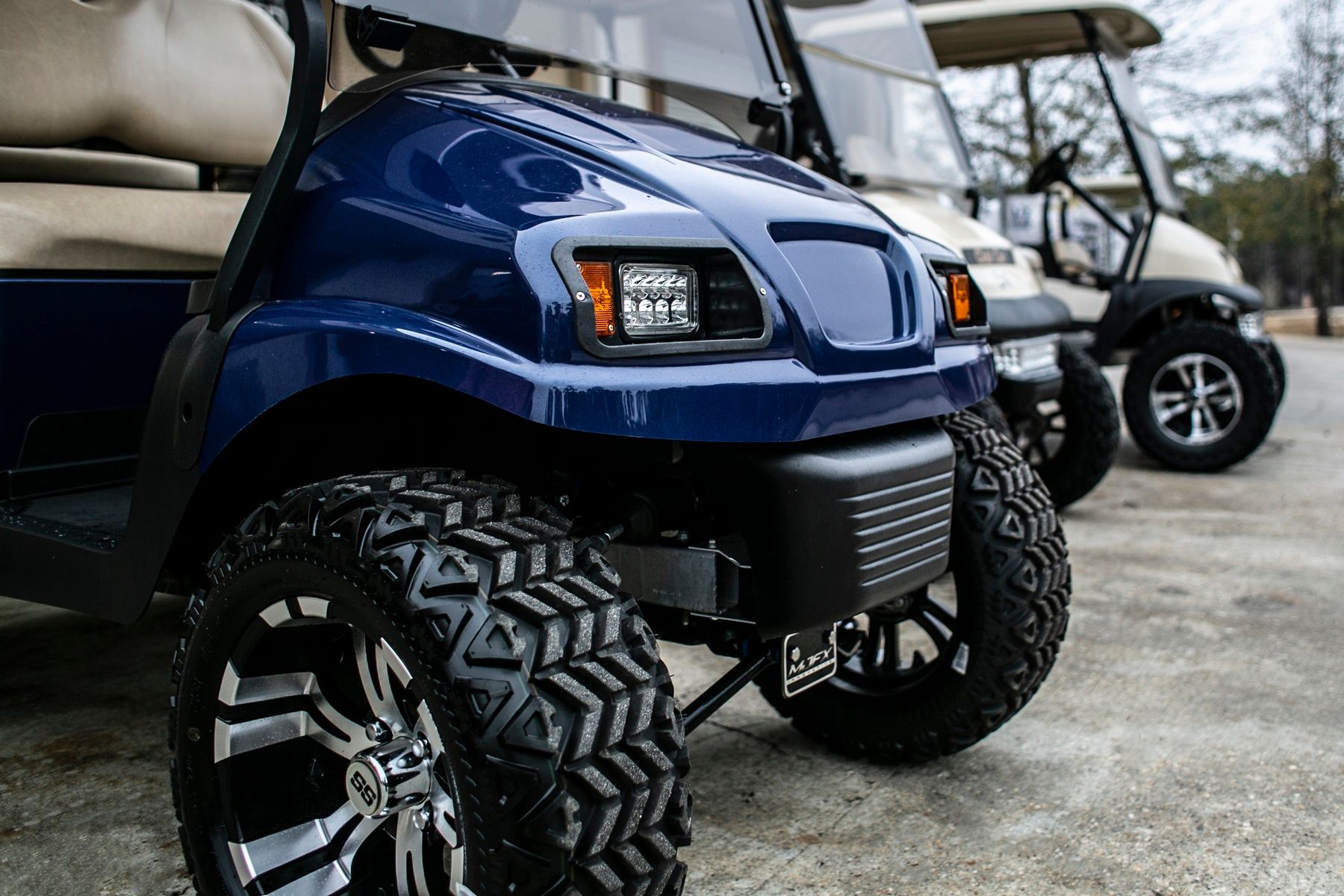 Quality Golf Carts at great prices
Ready to buy an in-stock golf cart today? We have a number of Carts in stock and ready for you! We will help you find a great deal. It does not matter how far or close you may be: Louisiana, Mississippi, Tennessee, Alabama, Arkansas, Texas, or Florida. We can help find the right golf cart for you, and you can have confidence in the carts we are offering. Each cart has been inspected by our expert team to ensure quality levels meet our high standards.
Our goal is to build long term customer relationships at Gulf Coast Golf Cart. Our goal is not to make a one time sale of a golf cart to you. Instead, we would like for you to be a part of the Gulf Coast Golf Carts family. We will do our best to make sure every golf cart or product with our name on it is the best it can possibly be. We cannot wait for you to come back with your Gulf Coast Golf Cart to get new upgrades and additions to keep it on the cutting edge. Whether you are looking for a new or used golf cart for sale, we are sure that we have one for you!
Product Name
Product Description
Product Name
Product Description
Product Name
Product Description
Product Name
Product Description
Ready for an upgrade?
Do you see a newer cart that peaks your interest? Get the maximum value for your cart today by including it in with your deal. Fill out our questionnaire to learn what your golf cart may be worth! Answer a few simple questions and our team can help you find a way to get into an upgraded cart.
In-stock does not mean they are boring!
These golf carts may be pre-owned, one owner, used, or demonstration golf carts. Gulf Coast Golf Carts in-stock golf carts can be a great starting point to getting the custom golf cart you have always wanted. Many of the in-stock carts have had some of the most popular and helpful modifications already made to them. These pre-customized golf carts are ready to drive right off the show floor with a unique style and look to set you apart from the crowd!
If you would like to purchase an in-stock golf cart and make some custom modifications to it, you are in the right place! Gulf Coast Golf Carts is the leading customization center in the Southeast. Our team builds countless custom golf carts each year. We have a dedicated sales team committed to understanding your needs and getting you the perfect golf cart for your situation. Customizing golf carts to fit the usage and lifestyle of our customers is our passion.
Act Fast! Inventory is constantly changing!
If you see a golf cart that you like, we recommend that you act as fast as possible. Our in-stock inventory of new and used golf carts for sale moves very quickly. These golf carts are priced to sell and will be gone soon. If you don't have time to make it to our show floor, please email or call 228-255-0092 us to get your questions answered about the golf cart. Our team of dedicated customer relationship professionals will be happy to help guide you through the process.
Is financing a concern? Let us go ahead and get you approved right now! It would be a shame for you to miss out on your in-stock golf cart because you are waiting around for financing! Our financing process is lightning fast. Get started with our financing form now! Let's ensure someone else doesn't get your golf cart!
If you have any additional questions about a cart on our list, please contact us immediately via email or phone 228-255-0092.